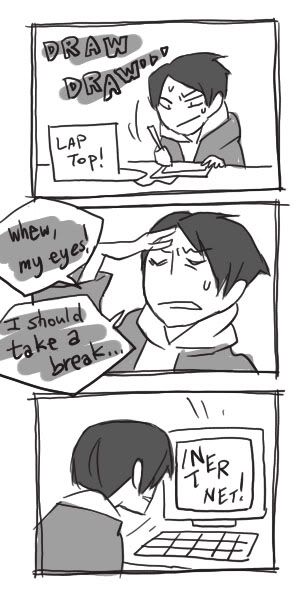 Thanks to everyone for giving me some advice on laptops. Right now my Cintiq/laptop is working again, but I still find myself encoutering some weird problems. Since money is really tight for me I'm going to keep working with these until I seriously need to buy myself a new PC.
I really, really hope my Cintiq is okay, and it's just the laptop...
Anyway, I got myself in another weird, messy situation that's been giving me a tight knot in my guts. I have to go back to Okinawa again until end of March, which is also a month that everything is due:
March 4th: Group project: fully colored 9+ illustration
March 11th: Fishbones comic, first 7 pages
March 25th: Freelance work
March 30th: First chapter of Gorge comic.
I haven't been able to start on the comics or the freelance work until I finish up the batch of illustrations due on the 4th, but I'm going to try and take my Cintiq,laptop, and scanner with me to Japan. I just hope they'll work when I'm there...
Please wish me luck, people who's wishes actually come true!
***By the way, does anyone know of a good way to carry scanner & Cintiq with you as check in? I can't really carry all three items with me as carry in, so I'm going to have to only take my laptop with me. I'm just worried someone will steal or break them if they are left in Check In luggage.